Thank you to my new favorite website, mybakingaddiction.com.
I was assigned to make a treat for the birthday of a girl in Relief Society today. I didn't know what to make but I know I always get a lot of chocolate on my birthday (not that I'm complaining!!!) so I decided to get a little bit of a fresher, cleaner taste.
I have made lemon sugar cookie before but it was crispity crunchity icky uckity haha... so I specifically looked for chewy. I HATE CRUNCHY COOKIES!!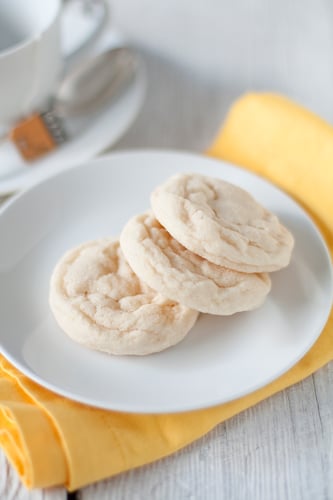 Mmm, don't they look delicious?? Question...when I used my cheap practically paper thin metal pan they were puffy like the picture. When I used my expensive air insulated cookies they were thin. They are still good, but why do I have the expensive ones???
Anywho, here's the recipe!!
Chewy Lemon Sugar Cookies
adapted from Rock Recipes
Ingredients
2 3/4 cups all-purpose flour
1 teaspoon baking soda
1/2 teaspoon baking powder
1/2 teaspoon salt
1 cup butter, softened
1 1/2 cups white sugar
1 egg
1/2 teaspoon vanilla extract
Zest of one large lemon, finely minced
4 tbsp fresh lemon juice
1/2 cup sugar for rolling cookies
Directions
1. Preheat oven to 350 degrees. Line cookie sheets with parchment paper.
2. In a small bowl, stir together flour, baking soda, baking powder and salt. Set aside.
3. Using a mixer, beat together the butter and sugar until smooth and very fluffy.
4. Beat in egg, vanilla extract, lemon juice and lemon zest.
5. Gradually blend in the dry ingredients.
6. Roll rounded teaspoonfuls of dough into balls, and roll in sugar.
Place on lined cookie sheets about 1 1/2 inches apart.
7. Bake 8 to 10 minutes in the preheated oven, or until lightly browned.
8. Let stand on cookie sheet two minutes before removing to cool on wire racks.
Makes approximately 24-30 cookies depending on size